&nbsp &nbsp &nbsp


&nbsp
Supply of dies for IMSA VST 1.6 stamper
IMSA is an important manufacturer of soap's stamper that has ceased its activity for over 15 years, Eurostampi srl thanks to its experience of over 40 years continues to provide IMSA as well as other stampers' manufacturers which have stopped their activity of new molds perfectly compatible with the specifications of their machine.
Designed and manufactured according to our Customer specification to produce 200gr bathroom soap bars.

Set includes: upper and lower half-dies with convex closure profile, air expulsions; on neutral inferior half-dies, on upper engraved with logo supplied by costumer (obscured in photo for commercial reservation).
The material of the molds is copper alloy for greater cooling efficiency, the circuit is obtained from the solid on the back of the mold with a particular path that improves its yield, when finished, the NIFLON treatment is performed which to facilitate the detachment of the soap and increases the working life of the mold over 100% thanks to its anti-wear properties.
The holding plates are in rectified aluminium and treated with oxidation to increase rigidity and resistance, even the trimmer plate is treated in order to have a life equal to the mold, the set is completed by the INOX steel extrusion plate and suction cups made by specification soap shape and weight.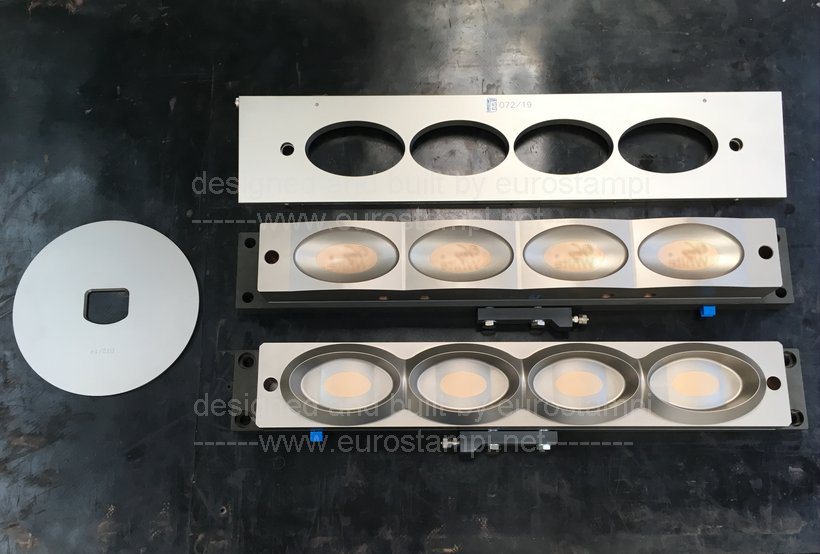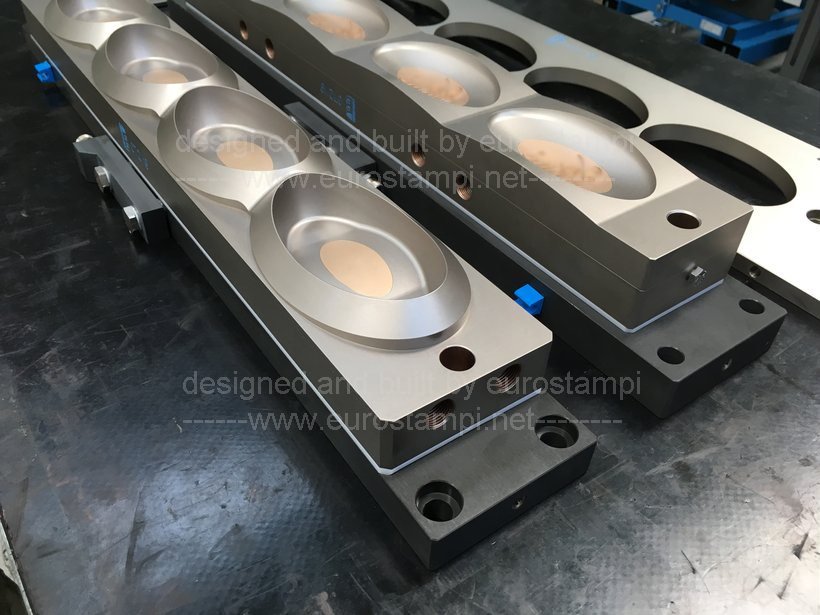 Detail of the quality of soap mold finish
---
&nbsp EUROSTAMPI Srl Via Firenze 1 21057 Olgiate Olona (VA) Italy -P.IVA 00302850128- Tel. +39 0331 630410. Fax +39 0331 631833
&nbsp Copyright photo ©Eurostampi srl all images are our property forbidden any use
&nbsp All names and trademarks belong to their respective owners
---